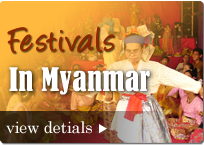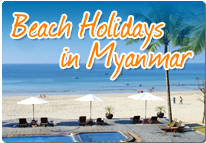 Mingalabar !

First of all let us say Mingalarbar, which means auspicious to you all. Welcome to Myanmar (Burma)! Myanmar is situated in south-east Asia and surrounded by Thailand, China and Laos in the east, India and Bangladesh in the west. Myanmar is over 2000 years old with its own culture and traditions. Therefore, Myanmar is abundant with Ancient Pagodas and Temples, full of natural beauty with mountain ranges, snowcapped mountain, hill tribes, silvery beaches and Virgin Islands.

Recorridos tur?sticos por Myanmar

Yangon

Yangon es la capital financiera y las puerta de entrada a Myanmar por aire y por mar, adornada por lagos id?licos, parques sombreados y vegetaci?n tropical. Yangon fue fundada como Dagon al principio del siglo XI por los Mon, que dominaban, en aquella ?poca, el Bajo Myanmar.

Mandalay

Mandalay es la segunda ciudad m?s grande y la ultima capital mon?rquica de Myanmar.Esta situada a 445 millas (712 km) al norte de Yangon en la orilla este del Rio Ayeryarwady. Tiene una poblaci?n de un mill?n y es la capital de la regi?n de Mandalay ( antes conocida como la Divisi?n de Mandalay)

Bagan

La atracci?n tur?stica principal de Myanmar es Bagan, capital del primer imperio de Myanmar; uno de los emplazamientos arqueol?gicos m?s ricos del Sud Este Asi?tico. Esta situada en la orilla este del Rio Ayeryawaddy. La magia de Bagan a inspirado a visitantes que llegan a Myanmar durante casi 1000 a?os.

Mrauk U

Una gran desconocida para el mundo occidental durante la mayor?a de su historia turbulente, Rakhine a jugado un papel fundamental en el intercambio de culturas y religiones entre la India y el Sudeste de Asia. Desde hace mas de mil a?os, la region que ahora forma el estado de Rakhine.