Mrauk U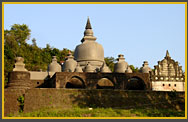 Largely unknown to the Western world for much of its tur?bulent history, Rakhine played a pivotal role in the exchange of cultures and religions between India and the Southeast Asia. For over a thousand years the region which now forms the Rakhine State from Myanmar, was an independent state whose rich history is only slowly being paid the attention it deserves.
Shittthaung Pagodas, Ananda Sandra Pillar, Andaw Thein temple, Yadanarpon temple, Dukkanthein or Htoke Kan Thein, Koe Thaung Pagodas, Pitakataik (or) the Library, Five Victory Pagodas, Palace Site, the ancient ruins of Mrauk U period, Mrauk U Museum showing information about the ancient Rakhine eras are the main places to visit in Mrauk U.
Sittwe is the Capital city of the Rakhine State, and Sittwe is situated on an estuarial island at the confluence of the Kaladan River, Myu River, and Lemyo River. Thandwe has the main airport of the Rakhine State. Kyaukphyu is another commercial town. The Ann Pass is an important trade route and rises to a height of 4664 feet above sea level.

Rakhine welcomes you with hospitality and culture. There are many places to stay in Sittwe. Mrauk-U has three good hotels. The Mrauk-U hotel owned by the government and two private owned hotels Nawarat and Prince Guest House that have recently been opened. The small Prince hotel is economical and has licence to accept foreign tourists.