Bagan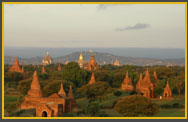 Bagan, the ancient capital of Myanmar is one of the most incredible archaeological sites in Asia and, once had approximately 13.000 temples, stupas and other buildings. This incredible ancient city can be reached in different ways: by road, plane and boat. It is 685 kms from Yangon by road and around 325 kms from Mandalay and Heho. By plane it takes around 1 hour from these same cities. If you like especial experiences, you can take a fantastic boat trip from Mandalay to Bagan on the Ayeryarwaddy River that takes approximately 14 hours.

We begin to have references of Bagan?s history around 849. It is known that it is the first place where Buddhism began in Myanmar. Around 1055 a Mon monk converted to Buddhism, the King Anawratha who ruled Bagan at its highest point of wealth, beauty and abundance. He went to war against the Mon?s of Thaton to take the Buddhist Holy Scripts of Tripitake. When the war ended, 30.000 mon monks were taken prisoner and many of them were skilled workers and artisans who left their legacies of talent in the temples of Bagan, which many of them are in Mon style.
This ancient capital has been hit by wars (was invaded by Kublai Khan), earthquakes (a devastating one in 1975) and fires. Many temples have been damaged or destroyed. Roughly around 2000 temples are left standing and have been restored but another 2000 are in ruins. The incredible talent of these ancient craftsmen can still be admired on the walls of the temples and the stupas.
Bagan is a place that cannot be missed by travelers coming to visit Myanmar. There are many hotels available for them and like I mentioned before, it is very easy to arrive here by road, plane and boat on the Ayeryarwaddy River.
Two of the most dazzling sights not to be missed in Bagan are: the wonderful sunset at the majestic Mingalazedi Stupa and the breathtaking hot air balloon ride that will show you from the air that Bagan is in an area of outstanding natural beauty and has no rival in its archaeological treasures.